TOKUBETSU JUNMAI (Special Junmai-shu)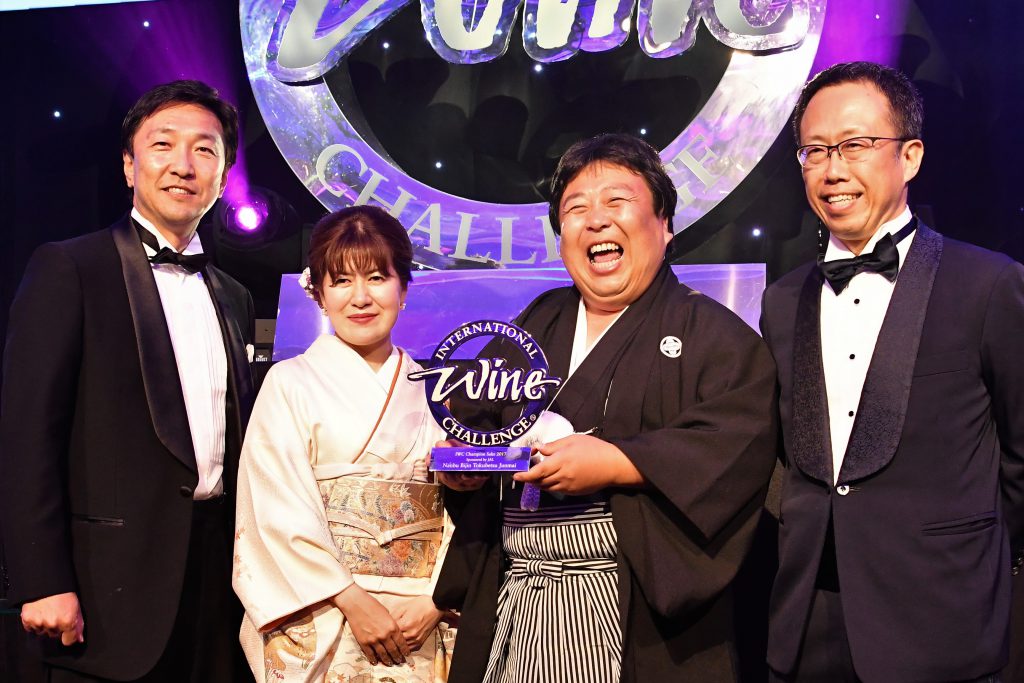 Nanbu Bijin Tokubetsu Junmai 2017 won "Champion Sake of 2017" at IWC International Wine Challenge! This year, 1,245 brands from 390 breweries around the world entered the IWC sake competition.
The competition had 9 categories, and the champion sake was selected among the 9 best sake from each category.
This is the reason that IWC Champion Sake is called No. 1 sake in the world. Last year, Nanbu Bijin was awarded for the best sake in Honjōzō category, and it was my first time to attend the IWC awards ceremony in London.
At that time, Dewazakura Sake Brewery from Akita, Japan won the IWC Champion Sake. While I was watching Mr. Nakano, the president of Dewazakura Brewery, who stood on the podium, I hoped I could win this competition someday and would like to give back to my local society.
I never even dreamed of winning the award this year.
Our approach to quality improvement, reform effort and challenge bore fruit. We won because we put together a team to work on our sake.
It is with much pleasure that our team won the IWC Champion Sake award.
We use "Gin-otome," the local and original sake rice of Ninohe-city, Iwate-pref., for Nanbu Bijin Tokubetsu Junmai. We, Nanbubijin Brewery and local farms had worked together hand-in-hand. Using rice and water of Ninohe-city, we brewed sake in Ninohe-city. It is really "made in Iwate," or "made in Ninohe." It is a miracle of a small town with 28,000 people that we won this world-class competition. Indeed, it was the moment that "a big challenge by a small town" succeeded when our Nanbu Bijin Tokubetsu Junmai won IWC Champion Sake 2017.
I feel the honor to attend this ceremony with my wife. I had dreamed of sharing the joy with her. I had hoped that I would show the highest in the world to her. That was my other wish, and this dream also has come true today.
Today, Nanbu Bijin received the honorable award. However, today is our new start, not our goal. We should focus more on our motto "Dedicate Sake Quality" and move forward. In order to carve out a bright future for sake and promote sake to the world, we will effort more. I would like to thank you all for your support.
"A toast with sake, throughout the word."


[IWC TASTING NOTES]
Rich, but refreshing, medium intensity of aromas. Quality rice notes with some floral characters and marshmallow. Velvety texture, subtle. Savoury umami on the mid palate. Dry, medium+ weight, lasting long.


https://www.internationalwinechallenge.com/canopy/beverage_details?sid=6513


This is one of Nanbu Bijin's regular sake, made with local Iwate Ginotome sake rice.
This sake can be served a refreshing aftertaste with the soft/light flavor and fine umami flavor.
We wish to make this sake as the best of best sake, which goes with any meal.
Ingredients

Rice; Ginotome sake rice

Rice-polishing ratio
55%
Mother water
Subsoil water from Orizumebasenkyo in Iwate Prefectural Natural Park (water of low to medium calcium content)
Yeast
M310, No.9, Brewing Society of Japan yeast
Nihonshudo,
SMV
+4
Alc
15〜16%
Acidity
1.5
Kosher Certification
Nanbu Bijin's Junmai Ginjo has a Kosher Certification, which regard as one of the highest authority of food safety guarantee and also as be in accordance with Jewish religious law.
A religious leaders, called rabbi, check and see ingredients and product processes, and make final decision for this certification.
In U.S.A, Most of all consumers buy with kosher certified foods because they knew it means healthy and safety.
We want to keep delivering our Japanese Sake globally with traditional culture pride, as one of the company with Kosher Certification for Japanese sake and sugar free Plum sake.