We can use the plenty of subsoil water from Orizumebasenkyo.
It consists about 80% with water in the components of the 1 Sho-Bottle (1.8 liters).
All brewery has their prides for water, fostered by a rich natural environment.
We are blessed land with water benefits.
We can use the plenty of subsoil water from Orizumebasenkyo in Prefectural Natural Park
We have own well of about 5m depth out of boiling in our sake brewery.
It is surprising to tell you that the color of water springs out is "azure blue".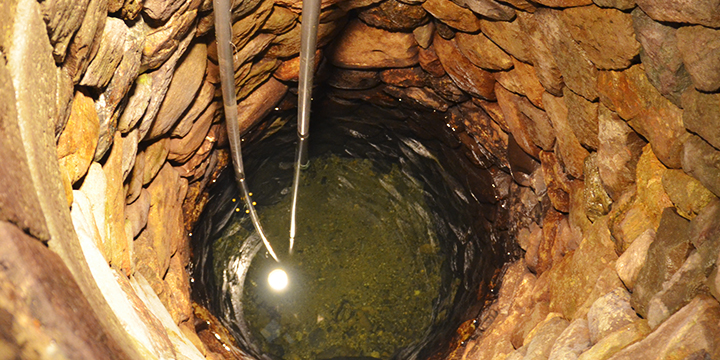 This subsoil water is classified as medium hard water.
Calcium, phosphorus, and magnesium promote the growth and fermentation of yeast and koji, rice malt and these ingredients help make the full-bodied sake
On the other hand, Iron is representative elements of the harmful ingredients for the brewing water
Iron gets a color of brown to sake, and bad taste and smell as well.
In addition, manganese, heavy metals does not give a good effect on the quality of sake.
Breweries used to be located on good water obtainable land, but now, it is difficult to get good water due to the Environmental destruction.
We are lucky to use plenty of subsoil water from Orizumebasenkyo for Nanbu Bijin sake.
Water for preparation

Analysis table

code
well water in side
pH
6.89
organic substance
2.3

CHLOR(ppm)

38.1
Iron(ppm)
0
manganese(ppm)
0
Silicic acid
49.4
hardness
2.5
Conditions for brewing water

color
Colorless and transparent
smell
not abnormal
Taste
not abnormal
pH
Neutral or slightly alkaline

Iron

ⅼess than 0.02ppm

Ideal for no detection
manganese

ⅼess than 0.02ppm

Best if not included

organic substance
ⅼess than 5ppm
Nitrite-nitrogen
No detection
Ammoniacal-nitrogen
No detection
Bacteria acidity

less than 0.5ppm
Conditions for normal water as reference.
Please check and see the difference between our water and normal.
Normal water Analysis table
Hardness
2.26
Iron(ppm)
0.0018
Manganese(ppm)
0
pH(ppm)
7.24
Organic substance(ppm)
1.9

CHLOR(ppm)

20.51
Silicic acid(ppm)
18.80
Potassium(ppm)
9.30
Magnesium(ppm)
0.01

Calcium(ppm)

0.02

Sodium(ppm)

115.00
水道水の水質基準
Iron
ⅼess than 0.3ppm
Manganese
ⅼess than 0.3ppm
Organic substance
ⅼess than 10ppm
CHLOR
ⅼess than 200ppm
Calcium, Magnesium,etc
ⅼess than 300ppm

Nitrate-nitrogen

Nitrite-nitrogen

ⅼess than 10ppm
pH
More than 5.8 ⅼess than 8.6
Bacteria in general
ⅼess than 100 per 1ml